NUR 466: Nursing Research
Week 3: Discussion
Week 7: Literature Review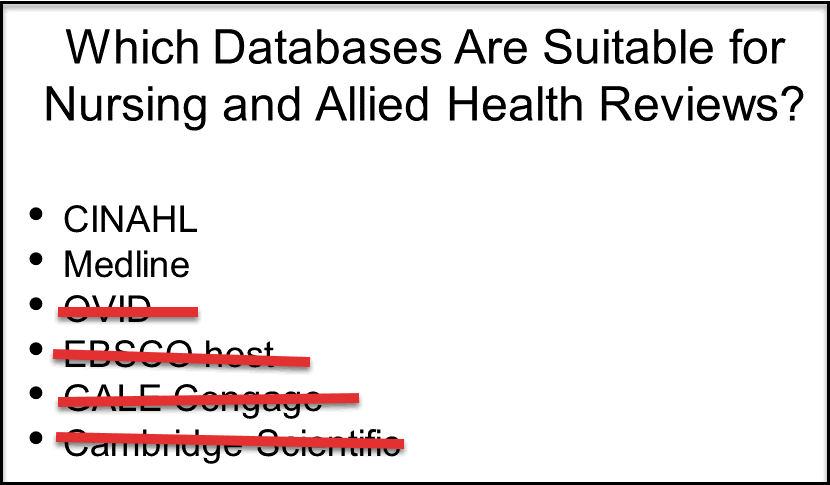 The slide "Selecting Databases" (see 5:58 in the lecture recording) lists information about databases that are NOT AVAILABLE to Olivet students:
Databases to which Benner Library provides access are listed in the "Recommended Databases" section on the Nursing Subject Guide
CINAHL Complete and Medline are the names of databases.
EBSCOhost, GALE Cengage, and Cambridge Scientific are not library databases. They are company names. These companies license content to library customers, such as the databases CINAHL and Academic Search Complete.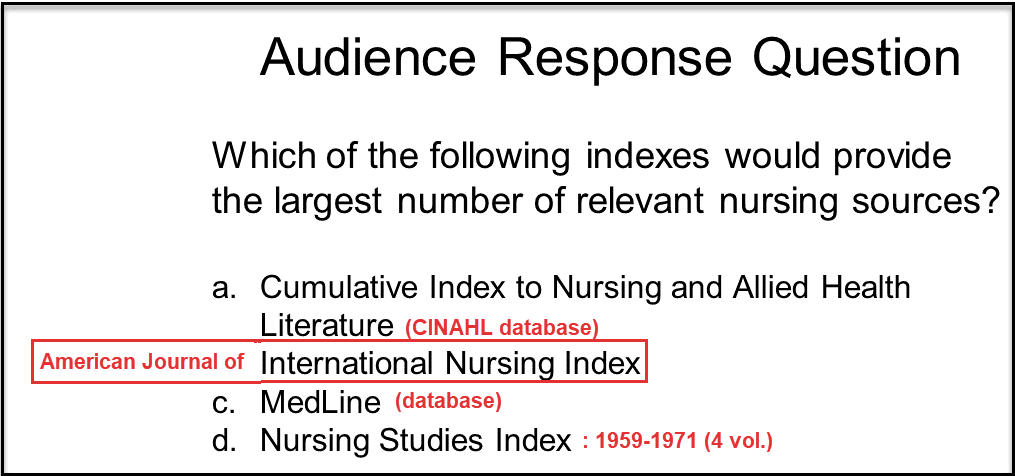 This list includes two searchable databases:

CINAHL Complete — nursing and allied health professions
Medline — biomedical and life science journal citations

This list includes indexes:

American Journal of International Nursing Index details the articles within a single journal starting in 1966
Nursing Studies Index: An Annotated Guide to Reported Studies, Research in Progress, Research Methods and Historical Materials in Periodicals, Books, and Pamphlets Published in English it was published from 1959-1971
Database Search Tutorials
CINAHL Basics tutorial (3:06 min)
How to Find Research Literature tutorial (in order to find "primary" articles) (3:20 min)
Systematic Reviews (2:29 min)
Week 8: Discussion Theory and Research Frameworks
Before you attempt to find articles for your post, view the three-minute video Nursing Theorist video tutorial.

Bonus tip (not included in tutorial): To find clinical applications of Betty Neuman's theory:
Use Benner Library's database CINAHL Complete.
Change the drop-down menu to subject
Type "Neuman Systems Model"
Add the word clinical to the next search box

Need Help
Need APA citation help? Download the APA Style Guide to Electronic Sources (NOTE: you may be prompted to log-in to My.Olivet in order to access this .pdf file)

Email GCS Librarians

Ask-A-Librarian
This web page was created by Jasmine Cieszynski, Instructional Services, on 7/31/2019. The content of the page was updated on 6/4/2021.